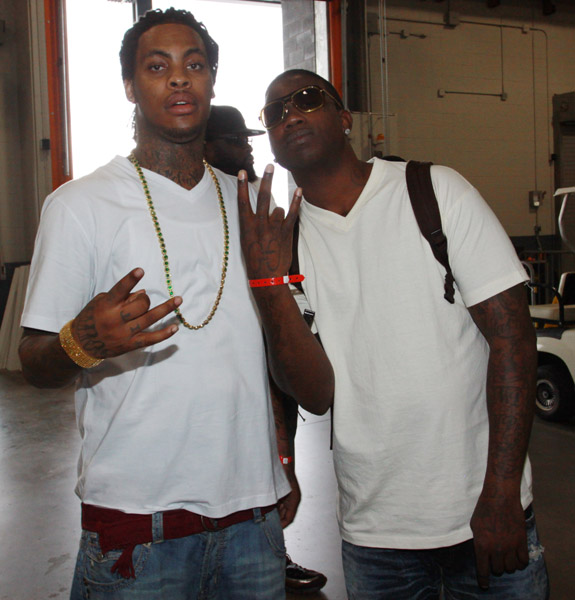 Earlier this month Gucci Mane took to twitter announcing that he dropped Waka Flocka Flame from his Brick Squad 1017 label.
"Waka flacka flames officially dropped off brick squad 1017. Big Guwop say give me a offer fa this disloyal lil nigga," tweeted Gucci.
But reports say Gucci was hacked. During an appearance on  MTV's "RapFix Live," Waka had this  to say regarding the whole Gucci Mane situation.
Twitter being hacked
"Nah, that Twitter wasn't hacked because we had a conversation before that. Real aggressive words like, 'Ni**a let's get up, let's do this.'"
Disloyal accusations
"Honest to God truth, I don't know because I'm the loyalist person you could ever see. I took on a man's beef, risked my life, hung out the window, risked my freedom. I never backed in a corner," he said, referring to Gucci's beef with Young Jeezy. "To my knowledge, it can't be nothing but jealously or something because there is nothing I did disloyal."
Business Dealings
"It ain't gonna never be no business, ever in life. No music or nothing," he declared. "I don't feel nothing he say out his mouth. It ain't real."
Being kicked out of Brick Squad
"I own a percentage of Brick Squad 1017 and I own 100% of Brick Squad Monopoly, so you can't kick the boss out," said Waka.
Gucci being in jail again
"He ain't it, he's bad vibes around me," said Waka. "I greet fans; he punches fans. It's a difference."
No hard feelings
"That's foul, I don't wish jail or death on nobody."