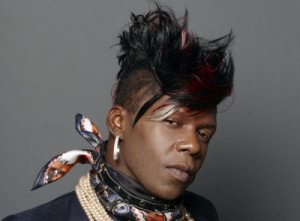 (New Orleans, LA) New Orleans Queen of Bounce Big Freedia wants her fans to know that she suffered a ruptured stomach ulcer last week that required emergency surgery. While she is expected to make a full recovery, her doctors have recommended that she not take the stage for a month. As such, all shows for the month of March have been cancelled. Big Freedia is heartbroken over the cancellations, but she's adhering to doctor's orders. "I hate to let my fans down," she says from her home where she is reluctantly resting. She will start up again on Friday, April 6 at Brighton Music Hall in Boston.  
In the meantime, she will be using this down time to finish her Summer 2012 LP tentatively titled, "No More Dreams, it's Reality," and film her new reality TV show with FUSE, among other things.
"People are gonna be amazed, " notes Big Freedia. "I have a new single comin' out in a couple weeks and I'm getting in the studio with Katey Red and Sissy Nobby!"
For questions, interview requests, and/or more info, please contact Nicole Balin at (323) 651-1580 or 
nik@ballinpr.com
.
March 3-Snow Ball Music Experience, Avon CO
March 8-The Union, Athens, OH 
March 9-The Bishop, Bloomington, IN
March 10-The Works, Detroit, MI
March 13-The Korova-San Antonio, TX
March 15-The Parish, Austin, TX
March 17-Rock n Roll Hotel-Wash DC
March 18-Mardi Gras New Orleans, LA
March 22-De Ja Vu-Las Vegas, NV