Beauty Expert and Author Courtney Rashon caught up with Mathew Knowles' R&B Super Girl Group Blush to find out What's in their Beauty Bag!
What products are currently in your make up bags?
We currently all carry MAC foundation and concealers, a few NYX lipsticks and primers, and also Lorac eye shadow pallets. We all love matte lipsticks and glosses!  Our favorite brands for these are MAC, Anastasia and NYX cosmetics.
What is the one beauty product you can't live without?
We can't live without a good pair of eyelashes! Right now, we're loving our #prettygirlgangcosmetics mink lashes and of course, BLUSH is a must on our cheeks.
You ladies have amazing skin and always look gorgeous.  Do you have a beauty regimen?
We are all MAJOR users of Shea Moisture African black soap.  We also believe exfoliation one a week with a scrub is key.  Other than that, lotion lotion, lotion!

Do you prefer to be glam or natural most of the time?
Both! There's beauty in being natural, and there's beauty in going glam.   We love rocking our natural faces, and then when duty calls we're happy to take our looks up a notch (or three!)  There's a much-needed duality being an artist in this industry. You always have to go with the flow!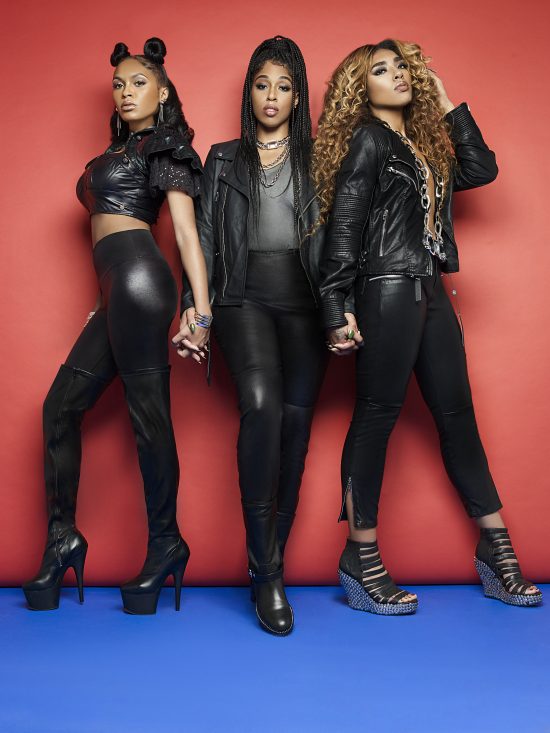 What are your favorite make up brands and favorite products to use?
Our favorite make up brands are Mac, Cover Girl, Anastasia, Lorac, Urban Decay and NYX.  Our favorite products are matte lipsticks, concealers, and a great cleanser!
"Our make up looks usually depend on the direction of the song and video concept, but we still try to stay true to who we are individually."
Being a hip hop super girl group and always on the road, performing and doing photo shoots, do you ladies find it difficult to remember to take care of your skin?
Oh yes, sometimes we are so exhausted and tired we literally crash in the hotel beds and forget to tend to our faces and skin. If that happens, we utilize a deep cleansing clay mask to clean out our pores and then revitalize our skin with a nutrient based moisturizer.
What makeup looks will you all choose for your next music video?
Our make up looks usually depend on the direction of the song and video concept, but we still try to stay true to who we are individually. For example, Bunni loves smoky eyes with big bold lashes, Tali loves golden/bronze eyes with a poppin lipstick color and Sunni loves violet smoky eyes with a bold purple lip.
How would you describe your individual styles?
Bunni, our sexy Blush, shows the most skin and usually when you see her she will have her two Bun Buns in her head. Tali, our edgy Blush, loves crop tops with low rider pants and rocks her big blonde hair most of the time. Sunni, our swaggy Blush, loves sneakers and jackets and will always be rocking her braids with a dope hat or beanie as a head accessory.
What is a typical day like for Blush?
Typically we start our day off with a good workout. We make sure to eat healthy meals and watch our diets because we love to eat! Also, we are constantly practicing our show routines.  We sneak in a few social media posts in between our workouts and rehearsals, as we love engaging with our fans!  Lastly, we're always writing and creating music together which always leads to bonding with one another as we work on our craft.
What beauty trends do you absolutely love right now?
Highlighting and contouring! We also love to create homemade organic masks for our faces.
For more info on Blush be sure to follow them on social media.
Instagram @officially_blush
Twitter @officiallyblush
Facebook https://www.facebook.com/officiallyblush
Snapchat @blushhhmusic