Trailblazer, a pioneer; an innovator. If there is one word to describe Courtney Rashon, that word would trailblazer.
While Ms. Rashon is a world renowned beauty expert she has also contributed her skills as a writer to various publications, such as Labels Magazine and yours truly, Shive Magazine where she stayed ahead of the curve on the latest trends while also supplying her tips on maintaining beauty. This past June she blended her expertise in cosmetology and writing to deliver her book "Giving Face: The Art to Looking Flawless for Every Occassion."  She is also a television correspondent on the cable tv program "What's the 411" in New York City. It is this ability to adapt and cover multiple bases which has made her into the entrepreneur she is today and helps continue to grow her brand.
From Executive Assistant to the CEO of Ecko Unltd., to starting her own business, Courtney Rashon Industries, LLC, Ms. Rashon continues to push the boundaries of makeup and fashion and reach new heights in the industry.
We got a chance to catch up with Ms. Rashon to discuss the success of her book, her inspiration for beauty, and whats next for her.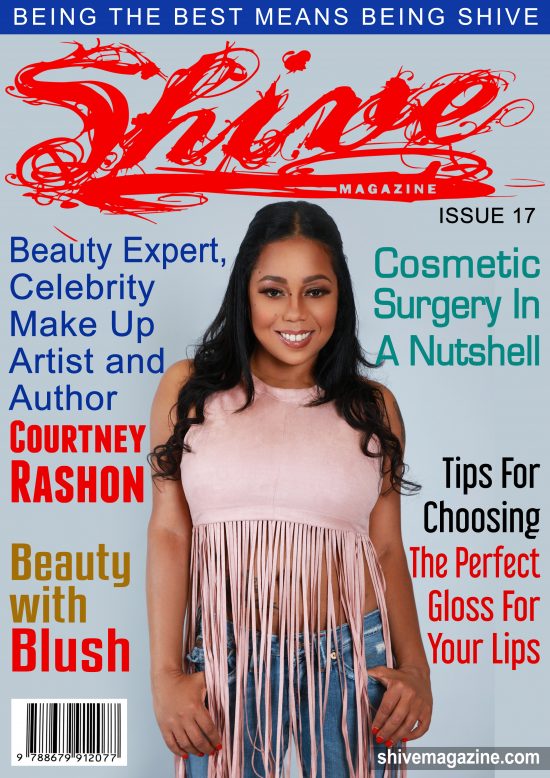 How long have you been a make-up artist and How did you get your start in the industry? 
I have been certified in the beauty industry about for 10 years.  While I was interning in New York at a few record companies, magazines and then I finally landed a job in working in the fashion industry, I began freelancing. At that time, I was doing make up looks for a few photographers in the city.  Some of my work was featured in advertisements in magazines. I decided to become certified in Character Sciences, Fashion/Glamour and Television makeup application by attending a beauty institution specializing in makeup.  There I learned all the fundamentals of makeup application, technique and instruction.   Once I finished school, I started my career as a full-time makeup artist, grooming expert and writer. 
Who or what influenced you to write your book "Giving Face: The Art to Looking Flawless for Every Occassion?"
Women, men, makeup artists, and people in general all have inspired me to write my book. Also, I was inspired by the natural and organic beauty treatments that was used by my mother and grandmothers while I was growing up.  I wanted to share my personal beauty knowledge, experiences and secrets with everyone.

How did you come up with the title? 
Giving Face is a term used in beauty and fashion. It means to "slay" whenever you look and feel your best. It can also reference facial expressions that gives off attitude, fierceness and confidence once your face is beat.  

When you were working for Ecko Unltd., did you ever imagine that you would have grown to be involved in all of the different fields you are in now? Such as television, fashion, beauty, and even writing books?
During my time at the company, I learned and experienced a great deal of things related to fashion, beauty, television and writing.  I was exposed to the industry first hand and all that it had to offer.  I am thankful for the experience.
"Because I love what I am doing, I am always motivated."
In addition to your book you also have your own cosmetics brand, How did the idea of #PrettyGirlGangCosmetics come about? What is your vision for the makeup line?
I originally came up with the concept for #prettygirlgangcosmetics, with the idea of it being an affordable luxury makeup brand. I wanted to provide high quality cosmetics for women at reasonable prices. We sold out of all our high definition lip lacquers, vitamin E lip liners, Mink lashes and Siberian Sable lashes in just six months after launching the brand in December of 2015.  

Chrissy monroe was one of the representatives of the brand and makeup line, what happened with that relationship?
LOL. I hired Chrissy to be the brand representative for one year.  Her contract was ending and I decided to terminate it early due to contractual obligations that were not fulfilled by her. Also, the company decided to take a different direction with marketing.  A month or so later, I was told by several people that she apparently was pissed off and said some things on social media which I wasn't aware of and honestly, I didn't care.  We all laughed about it because she was terminated for not doing her job and then she got upset about it. I didn't respond to her social media bullshit because I own the company and I am more focused on the brand. The whole thing was immature and made her look silly.  At the end of the day, it was an executive decision to fire her.

Being the sister of legendary producer Timbaland, was that even more motivation for you to establish yourself as the entrepreneur you are today?
By being in a family full of entrepreneurs, it was a natural process.  I was and I am still motivated and inspired by all his success and his contributions to music, technology and television.  It's a plus when you have someone who can give you advice about the business on so many different levels.  
What/who are your biggest inspirations in fashion and makeup?
I absolutely love Balmin and their creative designer Oliver Rousteing is bringing something new to fashion.  I am also fan of Versace, YSL and Tom Ford. Their clothes are chic, sexy and timeless. I am a huge fan of Gucci menswear and I love Manolo Blahnik made to order pumps. They come in all colors and heel sizes.  As far as makeup greats, Pat McGrath, Derrick Rutledge, Sam Fine and Kevyn Aucion are icons in the beauty industry. I admire their skills, longevity, impact and inspiration they have all made to the business overall.

You are somebody who is involved in multiple different forms of entertainment, how do you constantly stay motivated?
Because I love what I am doing, I am always motivated. There are so many opportunities that always keep me grinding.  I never get comfortable.  There is always something NEXT happening and I want to be a part of it.

What is next for Courtney Rashon? What is the next mountain for her to climb?
Currently, we are revamping #prettygirlgangcosmetics website and product line. Since the line sold out, we are now only releasing our new and exclusive Siberian Sable Eyelash Collection available in mid-December.  We are also expanding the product line and including a few new beauty items coming in 2017.  Also, #prettygirlgangcosmetics will be participating in New York Fashion Week for the second time in February, which is always exciting.  I plan on writing another book, and doing more with television and hosting. There will also be a lifestyle blog @ CourtneyRashon.me where I share my experiences, write about fashion, travel, beauty, relationships and my lifestyle overall.  
What advice would you give to an up and coming makeup artist on how to achieve all of their hopes and aspirations?
I would advise anyone interested in becoming a makeup artist to make sure they learn the craft and perfect it.  Researching period makeup looks, learning technique and application is key. Portfolio building is important and working with different photographers will help get your name out there and your work seen. Attending beauty school is a good way to get licensed or certified.  Watching online makeup tutorials and attending makeup workshops, tradeshows and classes is always a plus too.

What is the one piece of advice you were given that still sticks with you to this day?
Follow your passion and love what you do!
Giving Face is available at Amazon.com and head over to www.pggcgroup.com for PrettyGirlGang's high quality cosmetics for a reasonable prices. To get more info and all of her current moves in the fashion and makeup industry follow Courtney socially.
Instagram: @Courtney_Rashon
Twitter and Facebook: @CourtneyRashon