Theodore Jones, known to the world as Young Greatness has made his mark on the music world last year with his mixtape I Tried to Tell Em and his Jazzy Pha-produced track "Moolah". The street banger spent 7 weeks on the Billboard Hot 100 and still serving as thousands of people's ringtones and anthems. The 31-year-old rapper grew up in New Orleans's in the St. Bernard Projects, to us locals the Seventh Ward.
Greatness had a plan for his life but rapping wasn't one of them. He was set to play wide receiver for the University of Miami but returned home following the death of his father his freshman year. A list of disappointments followed including Hurricane Katrina, selling drugs,prison and  being a rapper from New Orleans. After spending almost two years behind bars, the New Orleans native gathered his thoughts and started pulling heavily towards his career as a rapper.
Going back and forth between New Orleans and Atlanta, landing himself not one but two manager and 2 record deals with Quality Control and Motown. With all odds against him, the industry newcomer managed to rise thru defeat to becoming another rapper who made it from the boot.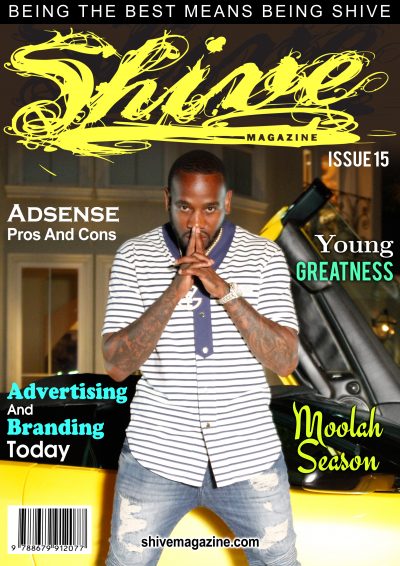 Shive: How does it feel to be gaining the attention of respected critics like, Rolling Stone magazine?
Greatness: It was a big deal for me to know a big publication like Rolling stone really paid attention to me and my grind. It kinda motivates me to keep on working hard.
Shive: What was the most craziest fan moment?
Greatness: Denver Colorado. I didn't know I had a big fan base out there. I love my fans because they support me and my product.
"I was incarcerated for almost two years but it was the greatest experience of my life. It showed me humbleness and patience."
Shive: How did you get your name Young Greatness?
Shit, I was like 19 and I would bring my friend Duece to the studio every day, and one day I was like "I'm going home, I'm gonna write a song." It was called "We Need We," it was a letter to Congress.  Once I brung the song to him he was like, "Man, I think you should do it." I said, "What am I gonna call myself?" He was like, "Man, call yourself Young Greatness." And it just stuck with me.
Shive: Let's talk "Moolah," for a record that you made in just 10/15 minutes, were you surprised by it's success?
Greatness: I know when I made it it was going to be special. So with the record it was a matter of time. I know it take a while for the records to get to the fans and different audiences. It was one of those songs the just came in at the right time.
Shive: How did going to prison shape your career?
Greatness: I was incarcerated for almost two years but it was the greatest experience of my life. It showed me humbleness and patience. I came home in 2010 and just went to work. I put out a record with Juvenile called "Buku." I started driving from New Orleans to Atlanta. I'd spend seven days in New Orleans, seven days in Atlanta. I did that for two, three years in a row. Because I outgrew New Orleans. I was hot. Everybody knew me.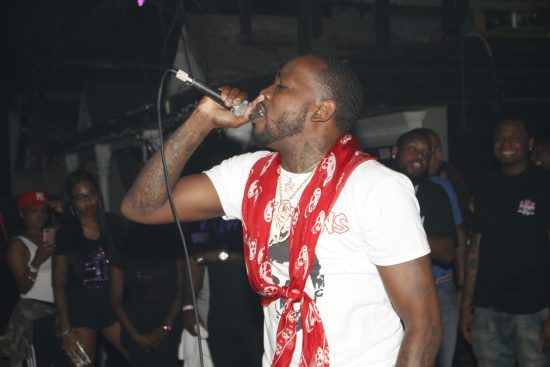 Shive: How does it feel to come back to New Orleans and perform?
Greatness: It feels great. I'm excited about my shows I have out here. I know the energy and excitement is going to be hype. I always look forward to putting on for my city.
Shive: Why do you believe that New Orleans does not have the musical resources for pushing records and succeeding as an artist as Atlanta or New York does?
Greatness: There's no pipeline in New Orleans. We don't have any record labels no powerful managers, no nice studios. All the materials you need to make it in this industry New Orleans don't provide the opportunities to gain the type of exposure needed to get a record deal. Thats why alot of artists from here travel to Atlanta, New York and La.
Shive: Because you are from the city, do you feel like you have an obligation to help other hungry rappers from the city make it?
Greatness: That's my whole goal. I wanna be able to build up my brand and to come back and use what I've learned and my resources to help some of the other artists to get to the next level.
Shive: What artists would you like to collaborate with in the future?
Greatness: I've worked Juvenile, Pusha T, Meek Mill, Rick Ross, Migos, Yo Gotti and alot more but I really would like to work with Jay Z.
Shive: What upcoming projects do you have? Can we anticipate an album?
My I Tried to Tell Em 2 mixtape is out now and I'm always recording. Studio, studio, studio, so who knows. You'll have to stay tuned.