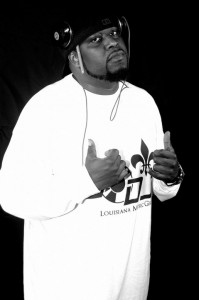 Hello all, and welcome back to Shivemagazine.com. We have with us today one of New Orleans hottest Djs, "Dj BlackNMild".
 BlackNMild: What's good Shive? Thanks for having me!
Shive: Man it's been a minute since we last spoke, what's been up?
BlackNMild: Been on my grind, both professionally & personally. But it has been a minute though. Lol
Shive: "Dj BlackNMild", what does it mean and how did you get that name?
BlackNMild: The name doesn't have a "secret" meaning; it's just what it is. I gave myself the name when I started djing in 95. I had just got my first setup and I was thinking about a name. I used to rap and my name was "Smooth Black" and I wanted "Black" to be apart of my dj name. I was smoking a Black & Mild at the time, I looked down and there was my dj name…. Dj Black N Mild! 
Shive: I heard there was some kind of beef with another DJ BlackNMild, what's up with that?
BlackNMild: 1st off, he isn't a dj, he's a producer. "Blaq N Mild" came out around 2000-2001. There was some beef behind the name. I was out & established already, he put in mad work with remixes. I have always respected what he did but again, the name thing kept coming up. People always assumed that it was me doing EVERYTHING and I ALWAYS corrected each and every person. I don't take credit for things others do. But we had a face to face recently, and everything is squashed.
Shive: That's good everything was put to rest. I will just call you the real DJ BlackNMild. Lol.
BlackNMild: No need to do that, Go Dj Black N Mild is cool
Shive: So, did you always know you wanted to be a DJ? How did you start?
 BlackNMild: Not really, but I always loved music. I didn't expect to become a dj, I was a football guy. I played in high school & college. But while I was in college, a dj lived in my wing in the dorm and he had his tables set up in his room. I asked if I could play around and he told me I could. While he was out the room, I did my FIRST mix (Outkast "Crumbling Herb" instrumental blended with TLC's "Creep" accapella). I don't know how long my boy was there, but after I stopped the mix he tapped me and said "You're going to be one hell of a dj one day." I guess that was my "start". 
Shive: What's the reason behind you creating mixtapes? How often to you drop a mixtape? How many you have under your belt now?
BlackNMild: My reason is just belief in artists. If good music is being made, that's motivation for me. It depends on how often I drop them but I try to drop 3-6 a year. I have 10 bounce mixtapes and around 10 regular mixtapes out now.
Shive: On your mixtapes, are there any new artist features? If so, how can new artist submit their music for consideration?   
BlackNMild: Of course I do. I love to work with Indy artists. They can submit music to godjslamixtapes@gmail.com
Shive: Do you think the Dj grind is the same as the emerging artist grind?
BlackNMild: Not really, it's WORSE! Djs have to be mini A&R's, business men, party rockers and promoters just to remain relevant. If artists had to deal with 20% of what djs have to deal with, they would quit.

Shive: Tell us a little about the Go Dj's Louisiana Music Group LLC. What's it purpose? 
BlackNMild: The Go Dj's are a national family of djs that work with Indy & national artists. No artist is too big or small. If you have good music, we will work with you. But please have some type of budget. It's not about the money, but this is a business. The Go Djs started in 2006 in Houston ; I started the Louisiana chapter in 2008.
Shive: You're considered a veteran in the game, what advice would you give to emerging Djs and emerging artists?
BlackNMild: The best advice I can give anyone in life and the music game is be yourself. People aren't stupid and fakes will expose themselves over time. Make sure you're djing or being an artist for the right reasons. If you don't have love for the music, you won't survive in today's industry.
Shive: What projects are you working on now? If you're working on a new mixtape, what can we expect from it?   
 BlackNMild: None Right now, I'm fully concentrated on the 3rd Annual Bayou Urban Music Conference (Govember 4-5 2011/Nola) but after the BUMC 2011 I'm doing some more Indy artist mixtapes.
 For DJ BlackNMild's latest news, music, and rising Indy artists.
Visit Godjblacknmild.podomatic.com
I like to thank Shive Magazine for interviewing me, it's truly an honor.  
To everyone out there, hit me or the Go Djs up on Twitter: @GODJSLA / @GoDjBlackNMild
Annual Bayou Urban Music Conference
An event that enhances the ultimate GO DJ experience by bringing together djs, artists, promoters, A&R's, models and fans for a ultimate networking experience!
The artist slots are for a 6 minute performance. The time is yours to use as you wish. Make sure to have a 6 minute show disk.
Product distribution during the conference for people without a 6-minute slot can also be paid online or at the door. If you are performing, the $50 fee is waived.
November 5th is the kickoff party that night TBD *Onsite registration will begin at 12 pm November 5, 2011 at The Hookah Bar **Sponsorship packages are available.
For more info on becoming apart of the Annual Bayou Urban Music Conference visit
http://bumc2011.eventbrite.com/
http://www.facebook.com/event.php?eid=100731690035594On
GO DJS LOUISIANA ….. "WE ARE THE STREETS"